Top 10 Entertainment Speakers
Speakers from the entertainment industry are widely used for public speaking engagements including in-person and virtual performances due to their ability to engage audiences and inspire, empower, motivate or provide an interesting dialogue about their story, experiences or knowledge gained during their careers.
Here is a Top 10 of the Speakers on LassWho who have a background in the entertainment industry.
As a comedian and entertainer Alex Weber is an in-demand Keynote Speaker who brings years of on-stage experience to every event, transforming and empowering audiences virtually around the world. Alex uses his energy and uplifting positivity to empower people to lead themselves past their fears and has hosted for NBC American Ninja Warrior, Discovery Channel, Under Armour and FX. Alex has also guest lectured at the Stanford Graduate School of Business.
Emmy award-winner Mark Pattison is one of the best entertainment keynote speakers. Mark is a former NFL Wide Receiver for the Los Angeles Raiders, Los Angeles Rams and New Orleans Saints. During his impressive career, Mark was voted player of the year on two occasions and was inducted into the Roosevelt Hall of Fame and the Husky Hall of Fame. In 2021, Mark completed the 7 Summits with his ascent of Mt Everest, the portrayal of his adventure was called 'Searching for the Summit' and was nominated in the Best Cinematography category and was nominated for and won Best Short Documentary Sports Emmy Awards.
Rupert McCall is an Australian poet of international renown. Rupert has paid tribute to legends such as Roger Federer, Rod Laver, Don Bradman, Dawn Fraser, Greg Norman and John Eales. On the 10th Anniversary of 9/11, Rupert recited his poem – A Firefighters Dream – at Ground Zero. In 2013, Rupert received the Medal of the Order of Australia (OAM).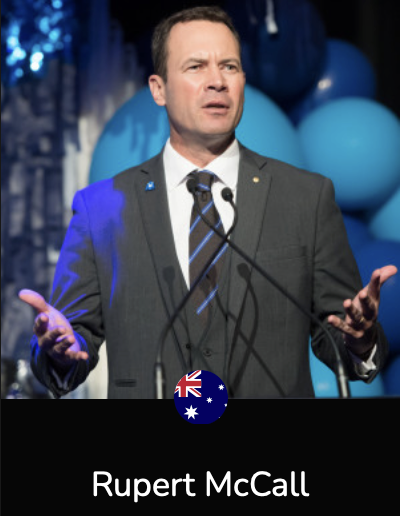 Voted as the Best of Las Vegas for 3 years in a row and named Entertainer of the Year by Vegas Inc. The Las Vegas Headliner, Personality Host and Philanthropist Jeff Civillico has recently celebrated a 10-year run on the Las Vegas Strip at iconic hotels such as The LINQ, The Flamingo and The Paris. Jeff has developed his unique brand of entertainment he calls "Comedy in Action" – a blend of physical comedy, action-packed stunts, and world-class juggling / balancing with friendly audience interaction and insane energy!
Having been inducted into the prestigious Speaker Hall of Fame as one of the youngest ever it is no surprise that Jason Hewlett is a leading keynote speaker. Jason authored the internationally acclaimed The Promise to The One, which ranked number 1 on Amazon. Jason has been invited to Kuwait, Afghanistan and Africa by the US Military for inspirational keynote speaking with troops.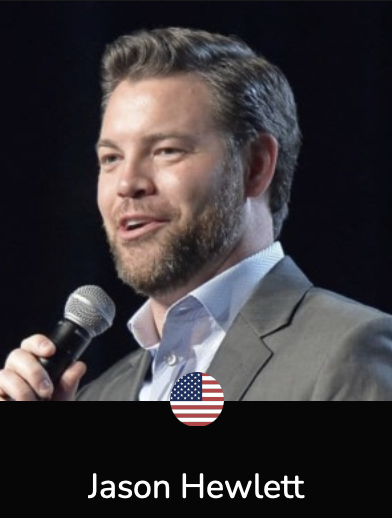 Brian Jacks is a British Judoka Olympic Bronze Medalist. Previously, Brian also took the bronze medal at the 1967 World Championships in Salt Lake. Throughout his career, Brian won 11 Gold medals before retiring and becoming a major success on the British TV Show – SuperStars. Brian was one of the most successful competitors winning 4 titles. His victories in the British and European Superstars led to the creation of the branded computer games – Brian Jacks Superstar Challenge and Brian Jacks Uchi Mata.
Australian television presenter and media personality Mike Goldman is nothing short of perfect for hosting or presenting with exceptional improvisational skills, humour, and versatility. Mike has his own weekly chat show, On The Mike, where he has interviewed celebrities and entrepreneurs since 2019. Mike has spent hours hosting live international television shows including Doctor Who Live, Friday Night Live and also had a 20-year stint being the host and voice of Big Brother!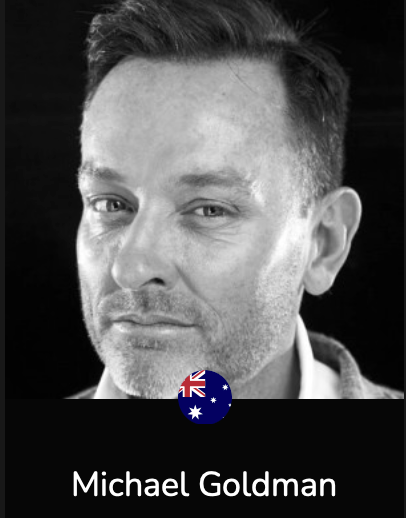 With her captivating voice, powerful energy and positive charisma Azania Noah has performed at some of the most prestigious venues in the world, the famous Blue Note Jazz Club, the Apollo in New York City and the Blues Alley in Washington D.C. Azania is an award-winning, multi-cultural singer/songwriter, born and raised in the U.S and Switzerland and has travelled worldwide performing in front of incredible numbers of people at over 800 concerts from Europe to Africa, Asia and the U.S. In Paris, Azania won first prize in the French TV competition Graines de Star. Broadcast to millions of viewers, it was the first French show like American Idol. She was also recently featured on the famous TV show The Voice.
Adriano Zumbo is an internationally renowned Australian pâtissier and television personality. Adriano opened his first patisserie in 2007 before becoming a well-known television personality figure for his appearances on MasterChef Australia and the Netflix series Sugar Rush. Adriano also had his own television programme called Zumbo's Desserts. Adriano is known for his signature dish of macarons and on the lead-up to International Macaron Day, Adriano sold close to an astonishing 30,000 macarons. As a popular figure, he has garnered many nicknames in the media, including "Sweet Assassin", "Pâtissier of Pain," "the Dark Lord of the Pastry Kitchen" and "Lord Voldecake." He has also been called "Australia's answer to Willy Wonka."
Jordan Wylie is an award-winning adventurer, a number one best-selling author and the national ambassador for the Army Cadet Force in the UK. Jordan is best known for being one of the stars on Channel 4 BAFTA nominated shows – Hunted and Celebrity Hunted. Jordan spent 10 years in the British Army and has set several world records as an adventurer. On leaving the Army, Jordan entered the world of Maritime Security, making headlines after armed Somali pirates boarded a ship that he was protecting, and Jordan found himself in charge and forced to make critical decisions for the safety of his crew. It was this experience that led Jordan to write "Citadel: The True Story of One Man's War Against the Pirates of Somalia", which became a bestseller on publication in 2017.